8 weeks ago today we loaded our plane at Las Americas in Santo Domingo to fly to Los Angeles, CA to spend time with my brother and his wife.  Where has the time gone?  The moments have been filled with lots of memories and so many more to make.  I feel like we've been able to be more intentional with staying in touch with friends and family as well.
Brantley will be 9 months old tomorrow.  He is getting quicker and quicker by the day.  He now has 5 teeth and is getting quite vocal.  He loves being outside and going on walks.  We are thankful for the California sunshine and beautiful weather during this time.  It was a year ago this month that we returned to the states to prepare for his birth and I had my weekly doctor check ups for blood work to monitor my platelet levels.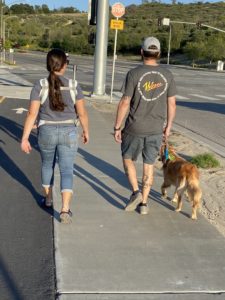 Braegan continues to work on her Spanish and English reading.  She has weekly zoom calls with her class from Indiana.  She keeps up with her school work from Lucille Rupp through WhatsApp.  Her coursework consists of math, science, language, physical education, and Bible.  She's been reminded that God is in control and He continues to provide.  We celebrated Cinco de Mayo this past week, and Braegan enjoyed a Choco Taco for the first time.  There is an ice cream truck that passes by every afternoon, so we were excited to see that they had them in stock!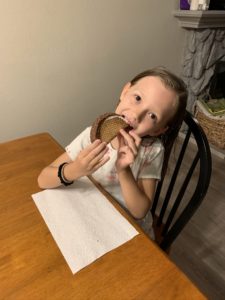 Jeff has been doing our weekly grocery runs and keeping up with payroll for our Dominican staff. When the kids nap in the afternoon he has been playing Call of Duty with Tyler on the Xbox.  He has also been enjoying the Michael Jordan Documentary: "The Last Dance".  Jeff has also been helping my brother with some different projects around the house
Throughout the past month, I have been working on gahering the end of school year letters from all 5 of our sponsorship schools.  I have enjoyed connecting with the administrators during this time and offering encouragement to them.  Their updates will be included in our quarterly newsletter that will be sent out this summer.  In a country where access to electricity, technology, and internet is sometimes challenging they are going with the flow and providing the best they can for their student bodies!
Jeff and I have both been keeping up with expanding our Spanish knowledge by doing daily lessons on Doulingo.  Braegan asked me today if my Spanish was better than Jeff's because I have more points on Doulingo….I told her that's not quite how it works…I wish!  My brother lives in a hispanic neighborhood, so we hear Spanish whenever we are outside.
Last Saturday, I received a phone call from my mom informing me that she had just dropped my dad off at the ER, because he was having symptoms of a heart attack.  Due to the COVID restrictions, she was unable to be with him until he was discharged and ready to be picked up.  It was confirmed shortly after that my dad was having a heart attack.  They identified that he had a 99% LAD blockage and decided to put in 2 stents. During the second stent being placed…his heart stopped. The medical team (and God) put his heart back in motion. After two days in Cardiac ICU and one day in a regular room, he is back at home to continue recovering. We are thankful for the care he received.  He is monitoring his weight, oxygen, and blood pressure daily.
As states begin to lift their restrictions, we are cautiously contemplating when we will head to the midwest to be with family.  We are waiting to see the response within the communities as people start to move about.  At this point, stay at home orders remain in place throughout California as Governor Newsom is waiting to see consistent days of decreased new COVID cases. We are not taking this time with my brother and his wife for granted, we are creating very unique memories and enjoying each other's company.
I would like to leave you with some verses from Psalms.  I've been following an instagram blogger that focuses on a different Psalm each week, this is one that stood out to me this week.
Psalm 39:4-7 NLT
4
" LORD, remind me how brief my time on earth will be. Remind me that my days are numbered— how fleeting my life is.
5
You have made my life no longer than the width of my hand. My entire lifetime is just a moment to you; at best, each of us is but a breath." 
6
We are merely moving shadows, and all our busy rushing ends in nothing. We heap up wealth, not knowing who will spend it.
7
And so, Lord, where do I put my hope? My only hope is in you.
Ways you can be praying:
-continued healing for my dad's heart
-our health and safety as we plan to travel to the midwest soon
-rest
-the Dominican Republic as they continue to respond to COVID cases