"Would you rather…?" Such a fun mind game to play with unrealistic scenarios but for a moment you get to choose your reality.  Braegan loves to do these, and sometimes we pass time on our drives back and forth to Santo Domingo trying to come up with new ones.  In the last few days, I realized how much of our daily scenarios are "would you rather" due to living in a developing country.  Choose one of the following that you would rather live without for the next 24 hours, and then a different thing for the 24 hours following that, knowing that you can't have all 4 at the same time:
-reliable electricity
-running water
-covered parking space (to protect from snow, ice, or sun)
-stable internet connection
Since we returned in October, there has been a car parked in our spot at our apartment complex.  We are the only family that lives in the building full time.  The other tenants only come a few times throughout the year.  Jeff has sent reminders to our landlord only to be told that the owner of the vehicle can't get it to start, because the battery is dead.  Finally this weekend the vehicle was moved.  It was almost at that exact moment that our internet stopped working.  I looked at Jeff and told him it's not possible to have everything working at one time.  We so easily take things for granted, but it is also a reminder that we are not in control.  All jokes aside, I'd love to hear what you would choose to live without for the next 24 hours.
In other news, I'll give you a brief update on what we've been up to lately.  Following Christmas we enjoyed some quiet family time in San Juan before our first team arrived on January 5.  It was nice to have down time at home, the temperatures have been cooler in the evenings (mid 60's), and it feels amazing!  We now have teams through the middle of February before we have a week off.
Last month I asked for prayers once again as we go through the process of renewing our residency.  Last week I got confirmation that everything was submitted successfully, so we will head to Santo Domingo on Wednesday morning to finalize another year.  More prayers are appreciated as we drive to Santo Domingo and spend the day at immigration.  We are attempting this round without a lawyer, and so far it has been a much smoother, headache free, cheaper process!  Stay tuned to see if it all works out.
Braegan is continuing to enjoy her tennis lessons three days a week.  She is also learning how to read and spell in spanish which is exciting.  (We're working on English too.)  She is still extremely social and loves spending time with the teams.  As she is getting older, it is getting harder and harder for her to say goodbye each week to our guests.  A couple weeks ago Braegan spent a couple hours with our friend Kailey, they made cookies and took her dog Luna on a walk.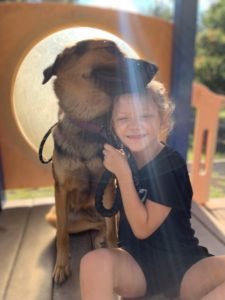 Brantley is now 5 months and has cut 4 teeth in the last month, and I have a feeling a couple more are on their way.  He's a happy little guy and loves listening to and watching Braegan run around.  He has a sweet little giggle, and it's rare that you don't see a smile on his face.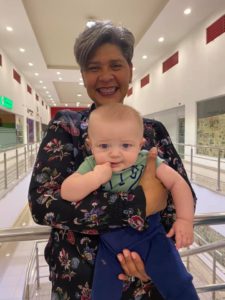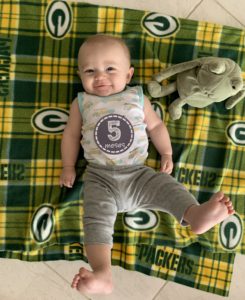 Jeff and I have been busy with ministry things as we work through each week.  Our teams during January and February range from 35-45 people, so there are always things to do to help with the team.  We are looking forward to family visits in the next few weeks, my parents come next week and Jeff's parents will be here in a month.  We are excited to show them what's changed in the DR since they were last here and catch up.
Prayer requests for the next month:
-our residency appointment on Wednesday, January 22 in Santo Domingo
-rest and health
-safety as we travel