It's almost been a month since my last post, and it's hard to believe 3 weeks ago today we were just about ready to depart for the Dominican.  We had super smooth travel days, both kids slept on the flights which was appreciated:)  Travel just seems to be a part of our everyday life.  Brantley is officially an international traveler with his first passport stamp.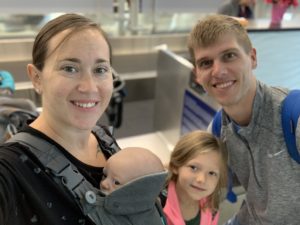 Braegan was so excited when we stepped off the plane, it seemed as if we had never left.  There are days when she misses the states, but she is so excited to be back in school with her friends.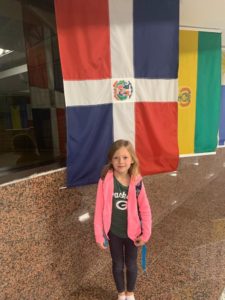 As you know she is quite the social butterfly.  Her Spanish seems to have improved while we were away.  She was a bit apprehensive the first two days we were back and then the next thing we knew, she was conversing with everyone around her at a more advanced level than when we had left.  A little over a week ago she attended her friend Zoe's Moana themed birthday party and had a fun time.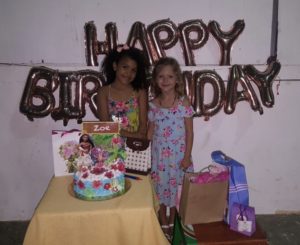 Braegan LOVES her baby brother.  She loves talking to him and making him smile.  We have been able to catch up with friends we haven't seen for a while and introduce Brantley to them.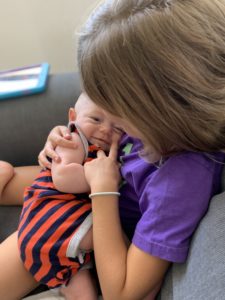 Two weeks we hosted our first team since being back, they were from Peoria, Illinois.  It was great to have a small, familiar team to kick off our return.  Braegan and Brantley even participated in the tour of the new clinic Solid Rock is building.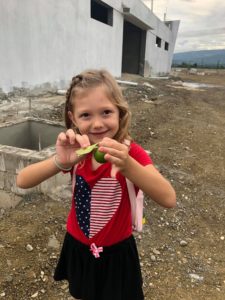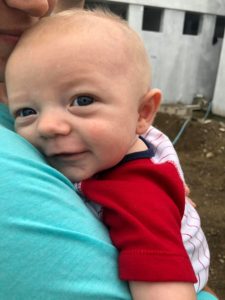 Following the team's departure, Jeff, Tyler, and Jason spent a day spearfishing.  Jeff had been waiting for the past four and a half months to get back out in the water.
This is a busy time of year for me with the updating of the student sponsorship profiles.  Every year from mid-August through December we visit all 5 of our sponsorship schools to take photos, update information on the students, and gather letters that the students have written to their supporters.  I was able to do a majority of the communication with the administrators from the states; however, since we did not return until mid-October we needed some extra assistance.  Thankfully Emily Ureste and Oto were up for the challenge.  They have done an awesome job and been life savers for me and my sanity!  On Friday, Jeff, Emily and I visited our school in Santo Domingo to update all of their information.  We have about 25 more photos to go until we have them all.  There are approximately 1,000 students in the program.  If you are interested in sponsoring a student, the cost is $30 a month and it goes toward their monthly tuition.  We partner with 5 private christian schools throughout the Dominican.
In other news, Christmas decorations are up in full swing throughout the country.  The parks in San Juan have started their light hanging.  There are homes with lights strung from the windows and Christmas trees displayed.  Since Halloween and Thanksgiving are American holidays, Dominicans begin decorating for Christmas in the middle of October.  On November 22nd all of the American missionaries that serve throughout San Juan will gather for a holiday meal together.  The following week we are hosting a team from Ohio during the week of Thanksgiving.  It has been our tradition with them, following our Thanksgiving meal to decorate the guesthouse for Christmas.  Stay tuned for photos!
How you can be praying for us:
We are still working to balance our new normal as a family of 4.  We are trying to be intentional with setting boundaries between family and ministry time.
Illness is going around the area and with teams traveling from the states, it is important for us to stay rested in order to keep our immune systems strong.
With the holidays upon us, safety is a big concern as there is a lot more traffic.  Prayers for our staff and teams as they travel throughout the country to provide care and ministry in areas of need.