Well August is here, and just as expected our littlest member has arrived.  My due date was last Thursday; however, he decided to wait an extra 2 days.
Due to his later arrival, Jeff and I were both able to attend Braegan's back to school night last week. She has officially started 1st grade.  She is loving it so far.  There are 8 sections of her grade, which is quite a big difference from her class at Lucille Rupp in San Juan.  She is enjoying all of the daily activities that she gets to participate in and the read aloud time from her teacher.  She also gets to ride the big yellow school bus every day, another first for her!
Last Friday, Jeff, Braegan and I spent some time relaxing by my aunt's lake, knowing that the baby's arrival wasn't too far away.
Saturday morning I woke up around 3:45 am to contractions.  I timed them for a bit and then fell back to sleep.  I woke up around 7:00 am, and decided to work on some details for our final team of the summer.  As I finished up my computer work, my water broke…I decided at this point it would be a good idea to wake Jeff up.  We got our things together, dropped Braegan off at my parents' house and took our last picture as a family of 3.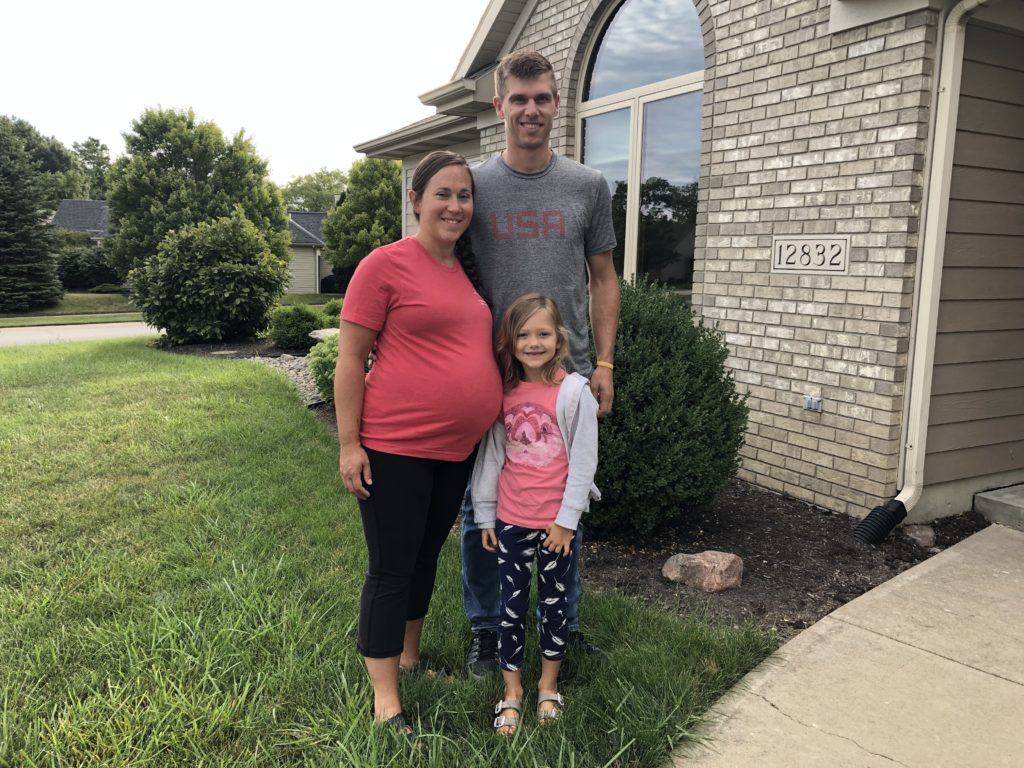 We checked into the hospital around 9:00 am.  A sweet friend from Fort Wayne, that had traveled to the DR with a team, had been on call for whenever my delivery would happen.  I texted her and she met us in our room once I was all checked in and she was my VIP nurse for the day.  We also were blessed with a very experienced OB, and after much conversation with her, we realized we had a lot in common, all the way to growing up in Northwest Ohio and being born in the same hospital!  I was thankful to progress pretty quickly as the day went on.  Brantley Michael Bucher was born at 5:48 pm, 20 inches long and weighing 7 pounds, 7 ounces.  Thankfully my platelets were high enough that I could receive an epidural.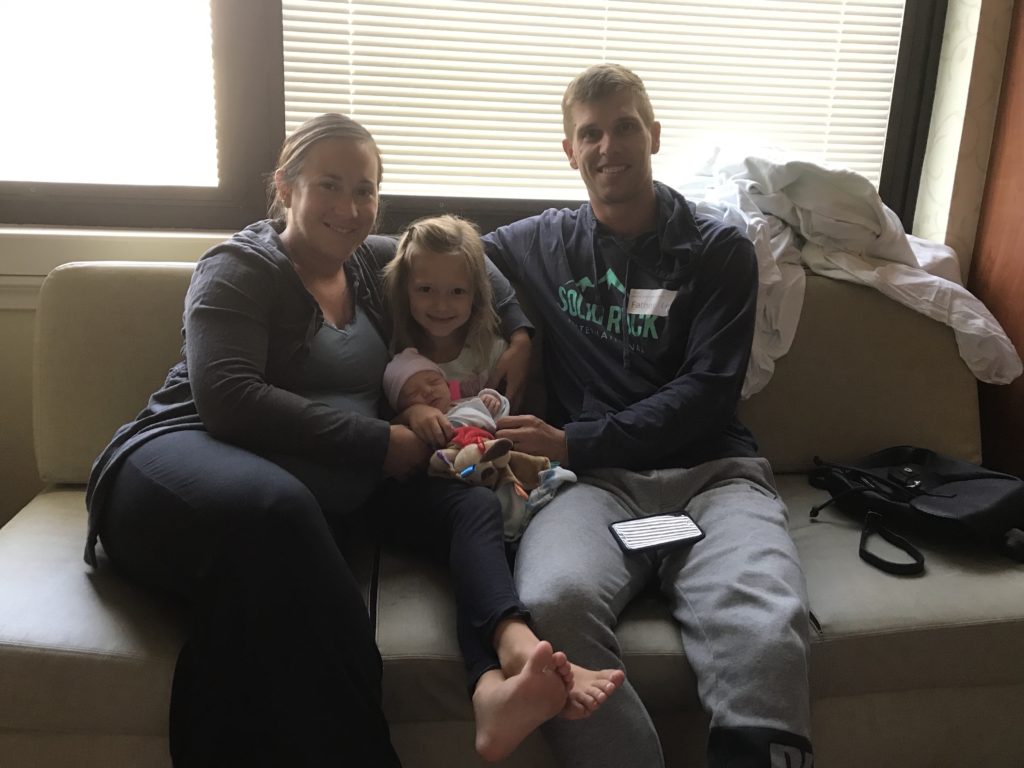 Braegan met her brother on Sunday afternoon, and she decided having a brother wasn't as bad as she thought it would be.  She loves helping however she can.  I was discharged on Monday afternoon, just in time to get home and greet Braegan from her first day of school.
Brantley has a typical newborn schedule, he sleeps 2-3 hours at a time, nurses, and then back to sleep.  I'm trying to keep myself in a similar routine and rest when he does.  We have our first follow up appointment with the pediatrician this morning since he was born.  My recovery seems to be going smoothly, which I am thankful for.  I have my postpartum appointment scheduled for late September.
The summer season with teams in San Juan officially wraps up this week, we have been so thankful to have a strong team of staff to work alongside during our absence throughout the last two months. Our next team arrives at the end of September.
Now for a few prayer requests:
–Braegan: Please be praying for her as she continues to adjust to life as a big sister.  She's so excited, but along with that comes attention seeking behavior stemming from no longer being the only child.  We are trying to be extremely intentional about the time we spend with her.  Her favorite activities at home right now are walking to the library, playing with magnatiles, and holding Brantley while I read to her.
–Brantley: On Sunday morning when the pediatrician was making his rounds at the hospital, he informed us that he heard a murmur while listening to Brantley's heart.  This was followed up with an echocardiogram later that day.  We were then notified on Monday morning that the echocardiogram revealed a hole in the lower chambers of his heart between the ventricles, Ventricular Septal Defect.  (This is different from the heart condition Braegan has). Thankfully we already have an established pediatric cardiologist here in Fort Wayne, and we are being referred for an appointment in 6 weeks to have another echocardiogram done, along with a consult from the cardiologist to find out the degree and plan of action for Brantley's heart.  We have and are continuing to pray daily for healing.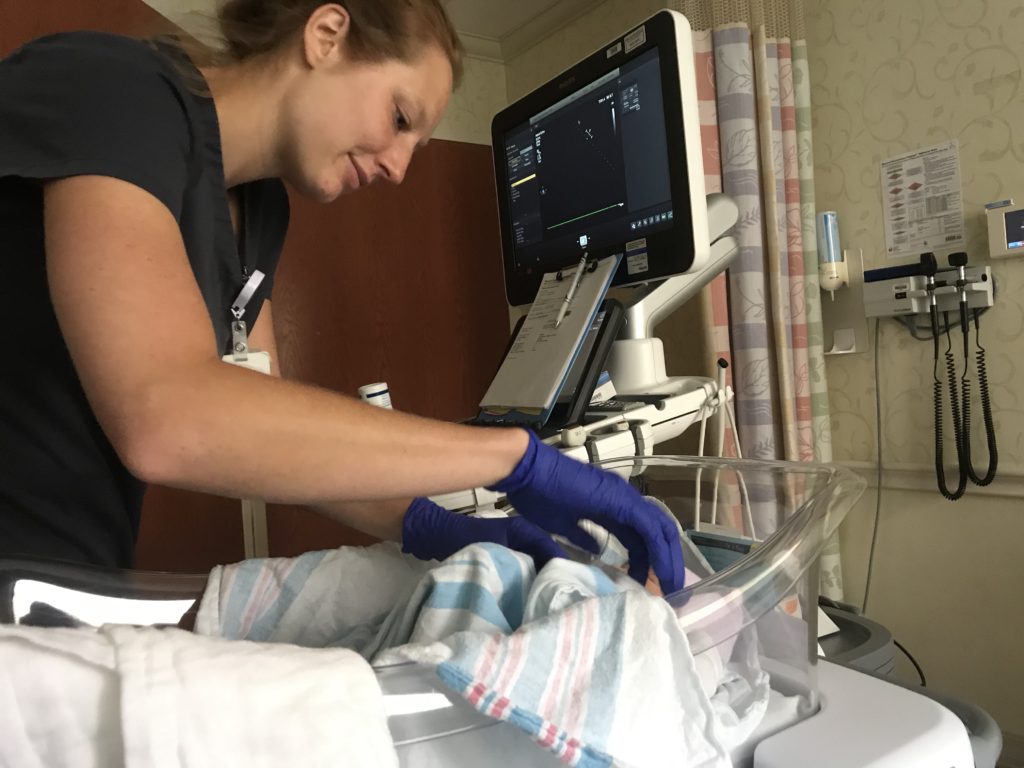 –Jeff & me: We are realizing just how much sleep we really need.  Prayers for rest and our health as we adjust to life as a family of 4.  We are enjoying our quiet time together, getting to know Brantley during the day while Braegan is at school.
I will leave you with the lyrics from a song that I recently heard that I am clinging to during this time of the unknown, KNOWING that God is holding us through it all.
Capital City Music
You will never leave
Your love sustaining me
Before I even knew what love was
You've brought me here to rest
And given me space to breathe
So I'll stay still until it sinks in
I will lean back in the loving arms of a beautiful Father
Breathe deep and know that He is good
He's a love like no other