Let's be honest, we all go through challenging seasons in life.  I feel like ministry has its ups and downs as well.  August tends to be a rough one usually, due to a long summer of teams.
Jeff, Braegan, the Millers and myself took a day trip to a beach on Wednesday, August 1st.  Jeff had found a beach that wasn't too much of a drive; however, finding a spot once we got there that would be enjoyable to spend the day was a challenge.  After a couple hours of being there, I got stung by a wasp.  The last time I was stung, I was too young to remember.  I didn't think much of the sting until the next morning when I woke up and I had a welt about the size of my palm on my upper thigh.  I had all the symptoms of a large local allergy.  I treated it with ice packs and hydrocortisone.  After 4 days of those symptoms and a high fever, I figured I should probably get it looked at.  Thankfully it cleared up.  It's been 2 weeks, and I still have a large dark spot on my leg where the original welt was.
On Sunday, August 5, as my leg started to clear up, I started having some major nausea.  I had woke up in the middle of the night to cramping in my stomach and I couldn't sleep.  We had been in Santo Domingo for the weekend to pick up our new team, so it was during our drive back to San Juan when I had to have Jeff pull over in Bani (2 hours outside of San Juan), for me to humbly vomit roadside.  When we got back to San Juan, I was exhausted, but I couldn't get comfortable long enough to sleep.  **Upon arriving in San Juan, we realized our apartment had no water.  Our cistern and 2 tinocins (water storage) were dry.**  The nausea eventually wore off, but I was still fighting major cramping. 
On Wednesday, August 8, I was up most of the night vomiting again.  This time I decided it would probably be time for a visit to our clinic's lab to deposit a sample.  The results I received informed us that I had a bacterial infection in my intestines.  I spoke with Dr. Sandy and Nef, and Dr. Sandy sent me to the pharmacy for a week's prescription to clear things up.  Today is my last day on the medication.  I've been eating light for the last week to avoid any additional problems.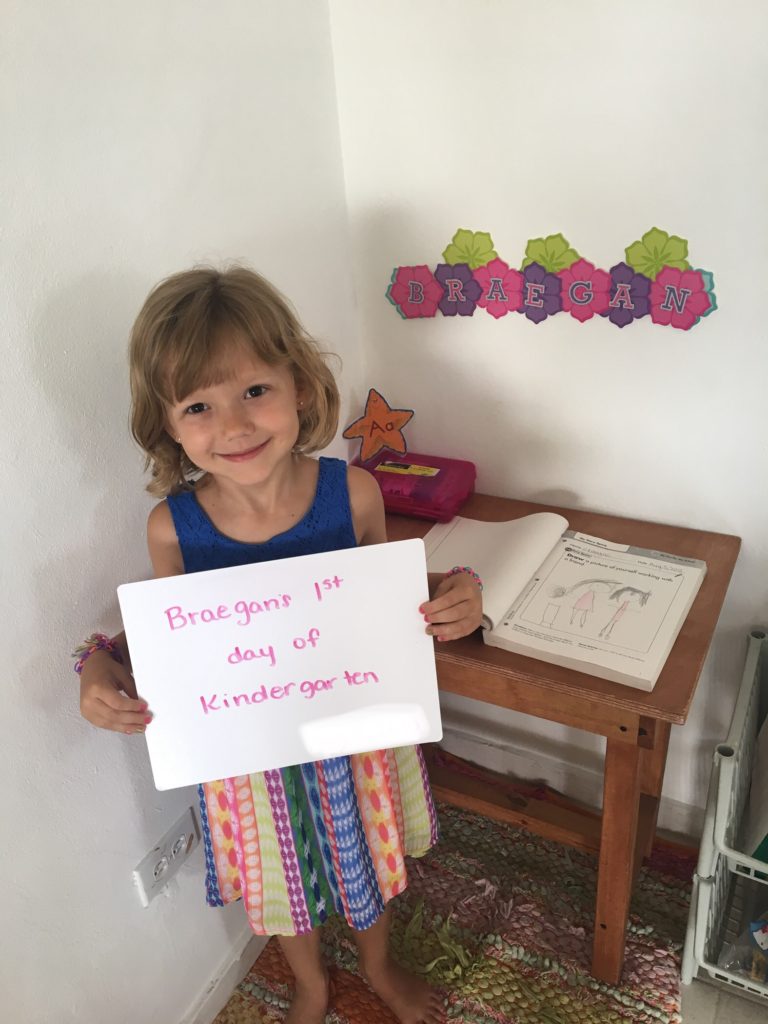 On Wednesday, August, Braegan officially started kindergarten.  She is enrolled as a student through Indiana Connections Academy.  She completes approximately 5 hours of coursework per day.  On Mondays, Tuesdays, and Wednesdays she participates in Live Lessons with her teacher and classmates.  As a former educator, I am really enjoying being an active member in her education.  She is becoming more familiar with the computer.  On Monday, August 20, she will start at Lucille Rupp as well.  She is excited to be reunited with all of her classmates!
On Friday, August 10, we drove the Millers to the airport as they are making their first stateside visit since their arrival in March.  Jeff, Braegan, and I then continued on to our favorite vacation spot on the island, Las Terrenas.  Braegan was a trooper after 5 hours in the truck, but she didn't quite seem spunky self.  She kept saying, "mommy, I think I have what you have".  I reassured her she was fine.  She didn't want to eat lunch or dinner.  As we were cleaning up from dinner, I realized she was no longer in the room with us.  We found her in the bathroom vomiting.  This was not at all how we had anticipated starting vacation.  She ended up sleeping in our room on the floor for the night so we could help her as she was back and forth to the bathroom several times.  The next day it seemed to be out of her system, and we took it easy.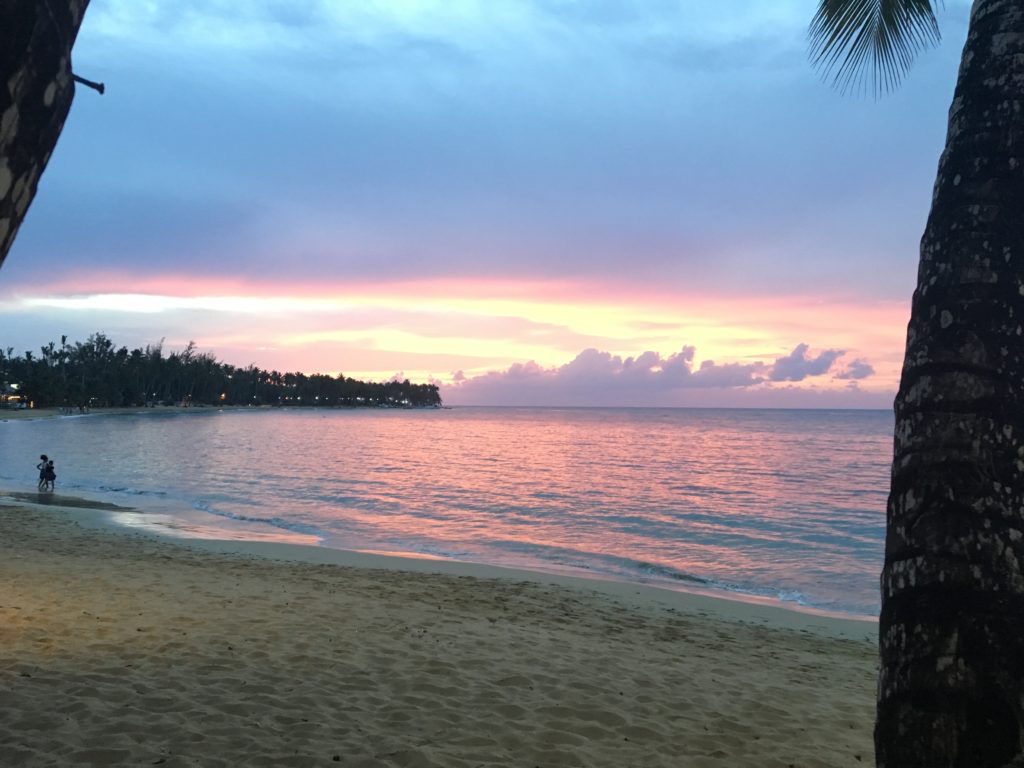 On Sunday, August 11, we decided it would be a good day to go to the beach.  Braegan had gotten Jeff a new snorkel set for father's day.  We loaded up all of our gear and left for the beach.  We were there for a few hours.  Once we came in from swimming, we decided to load our stuff up in the truck and walk to a beach side restaurant.  When we returned, Braegan and I rode in the truck bed since it wasn't a long ride and we were all sandy.  When we arrived back at the house, Jeff realized that his wallet was empty and his phone was not where he had left it in the truck.  Someone had messed with the driver side door and gotten into the truck and stole from us.  UGH, can we catch a break already?!  I got Braegan down for her nap and cleaned up all of our stuff from the beach, while Jeff drove back to where we were parked, no luck.  Well that put a damper on vacation.
Today is Wednesday, August 15 and we are on our way back to San Juan.  We have 5.5 more weeks without teams before we start up with surgical teams on September 22.  During this time we're hoping to get Braegan on a routine with her Dominican and American kindergarten classes.  I've also been busy with communication for our September through December teams.
As I stated last month, Jeff and I celebrated 10 years of marriage on July 11.  We have a trip planned to Italy at the end of October/beginning of November to sightsee and attend a close friend's wedding.  We are excited to visit another part of the world that we haven't seen before.  We are planning to do some research during this long break to schedule out our time in Italy.
Ways you can be praying for us:
-Our health has taken a major hit so far this month and we appreciate your prayers for rest and strength.
-We are still awaiting our residency renewal appointment.  Our residency expired on August 4.  We submitted our file over 2 months ago, but the immigration system has been going through some changes and their database has been down.  Prayers that these details will get worked out.
-This upcoming season (September-December) is a busy time for me as I will be visiting all 5 of our sponsorship schools and updating our student profiles.  We have just under 1,000 students that are currently sponsored.  Prayers for safe travels and sanity as I gather and organize all of the details.
-Braegan loves learning.  Please be in prayer for us as we balance her schooling this year.  We are excited at the thought of her expanding her vocabulary and being able to read!
Thanks so much for your prayers, encouragement and financial support.  We could not do what we are doing without you!  We are looking forward to this extended time in San Juan to catch up with friends and spend time together as a family.